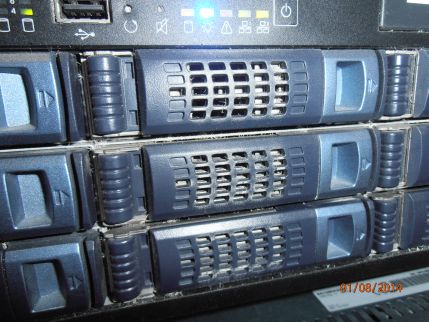 Server cleaning from dust
If your company has experienced construction in the direct vicinity of the server, a server cleaning is strongly recommended. Due to construction, dust and dirt particles come in contact with your server hardware, which can lead to serious system failures. With a server cleaning from construction dust we bring your IT back on track.
Why is the trackwork is protected against so dangerous?
Even a small amount of dust can in conjunction with the ambient humidity cause conductive deposits and permanently affect the functionality of your hardware. Hardware failures are therefore pre-programmed.
Best preparation for professional results
We beginn our server cleaning services from construction dust by performing a site visit and a status analysis with local IT personnel. Your EDP-spaces and the existing hardware will be visually examined and a functional test of the hardware components will be documented and logged. Then, the hardware by the IT-representative shut down and opened.
Safely remove Construction dust contamination
We begin immediately with the professional cleaning of power supplies, fans, drives, and other relevant system components. Our ESD special vacuum cleaners allow us to remove coarse dirt and dust. The active components are cleaned with special tools according to the manufacturer regulations, EC guidelines and ESD guidelines. The detergent used is of course TUV-tested, and we have a Kontakt-Reiniger for older parts, for the optimal functionality of the hardware.
After the inside cleaning, the server and the server enclosure is assembled with Spezial-Reiniger cleaned, antistatic sealed, cabled and powered up.
With us, there is no "Rude Awakening"
Before we go, we together with your IT-representative check the functionality of your server, and document the results. You can rely on our server cleaning!
TAGS: